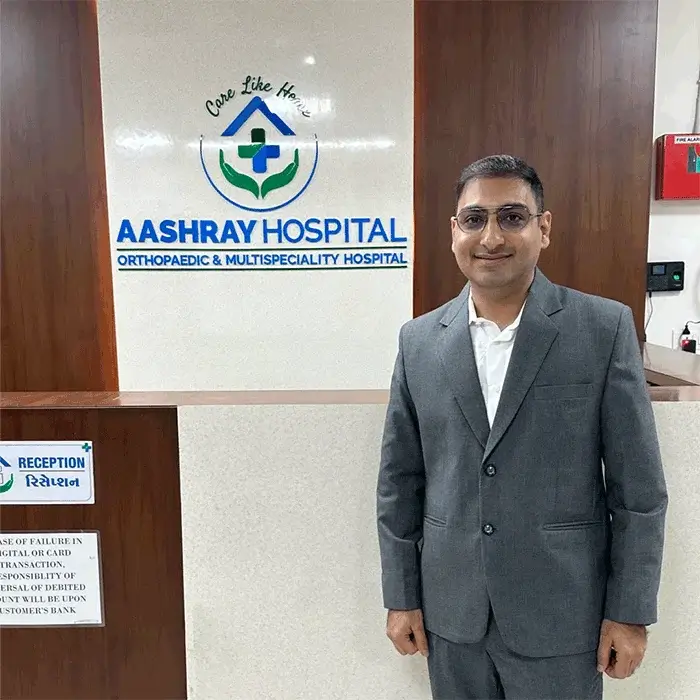 Orthopaedic & Joint Replacement Surgeon
Dr. Chirag Master
12/13-A, Nuclear Park, Opp. Nandish Complex, Narayan Garden Rd, opp. Yash Complex, New Alkapuri, Vadodara, Gujarat 390021

aashrayhospital@gmail.com

+91 63552 46321
He completed his M.S. (Orthopaedics) in 2011 from Medical College & S.S.G.H, Baroda. He continued his work as Senior Resident (SR) for 1 year at S.S.G. Hospital, Baroda.
Later, he joined Navrang Hospital, Baroda as Consultant Orthopaedic Surgeon under Dr. Mahesh Patel. He started his training in Joint Replacement & Arthroscopy under him. During this period, he has attended many National & Internationals conferences and hands-on workshops. He is specially trained in Complex Trauma, Primary & Revision Replacement Surgery, Minimally Invasive Surgery, Computer-Assisted Navigation Replacement Surgery. His interest in Joint Reconstruction took him to South Korea, where he did his Fellowship in Hip & Pelvis Reconstruction at Chon-Buk National University, Jeonju with Prof. M.S. Park & S J Yoon.
There he got extensive training in all aspects of Hip & Pelvis Surgeries including Minimally Invasive, Revision Joint Replacement, Arthroscopy Surgery, various Osteotomies, etc. With this, he has also gained knowledge in shoulder & knee surgeries from well-known professors at this university. During his fellowship, he has presented International Case Report & many presentations.
Quick Contact!
Book An Appointment
Your email address will not be published. Required fields are marked*